Team:
Christian Hilgenfeldt,
Tilo von Dobeneck,
Hendrik Müller (now at BGR)

Room:
University of Bremen, GEO Building, Room 0100 and MARUM container


System:
NERIDIS III (NERitic DIScoverer) is a new controlled-source electromagnetic (CSEM) benthic profiler developed and owned by MARUM. We modified a commercial land CSEM sensor for submarine application, which was mounted into a very robust nonconductive and nonmagnetic bottom-towed hull of 5.2 m length, 1.2 m width and 0.8 m height weighing 900 kg in air and 200 kg in water. Its primary purpose is meter-scale resolution EM sounding and mapping of the shallow seabed at water depths from 10 m (sublittoral) to 1000 m (upper slope). Magnetic susceptibility is determined from the sensors 75 Hz in-phase response (90% signal originates from the top 50 cm), while electric conductivity is derived from the 5 kHz out-of-phase (quadrature) component (90% signal from the top 92 cm). The system is also equipped with a CTD sensor and a new high-speed flash camera system to create continuous high-resolution optical sea-floor still images with ultrashort (0.1 ms) LED flash exposure. Using onboard Li-ion batteries, underwater deployment times of 8-12 hours can be achieved. With tow speeds of 3-4 knots, profile lengths of 20-40 nm can be achieved in one operation. Two lift bags in bow and stern inflate automatically and lift the system to the surface for easier recovery at sea or for autonomous ascent after accidential tear of the tow line in case of a hard collision with a seabed obstacle.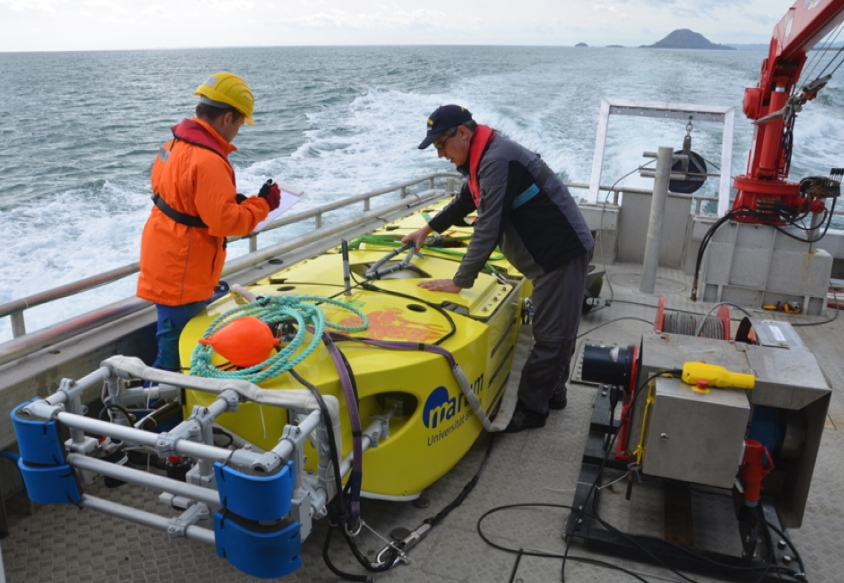 Neridis III getting ready to survey the Bay of Plenty


Müller H., von Dobeneck T., Hilgenfeldt C., SanFilipo B., Rey D., Rubio B.
(2012)
Mapping the magnetic susceptibility and electric conductivity of marine surficial sediments by benthic EM profiling


Geophysics

,

77

, E43 - E56




doi: 10.1190/GEO2010-0129.1